Live Market Feeds
Use this type of Custom Variable to retrieve values for projects published on Markets.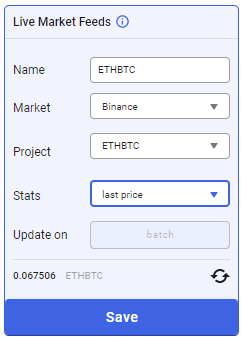 Name
Use the variable's name to reference it in the Formula fields of nodes and connections throughout your diagrams. See the example below.

Market
Select the market from which you want to retrieve information from the drop-down.
Project
Select the project for which you want to retrieve information.
Stats
Select the value you want to retrieve.
Refresh

Hit the Refresh button whenever you want to retrieve the latest value from the source defined in the previous fields.