Interface Basics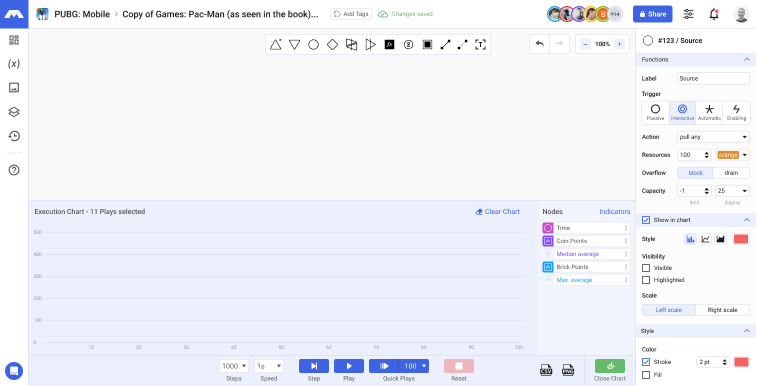 Your Machinations Workspace is where you'll craft game systems, set parameters, play simulations, and plot results.

From the header you can easily access
the Main Menu
the File Management: Diagram name, description, API token (for game engine integration)
Global Settings
Notifications
Clicking on the diagram's Name reveals the file management setting.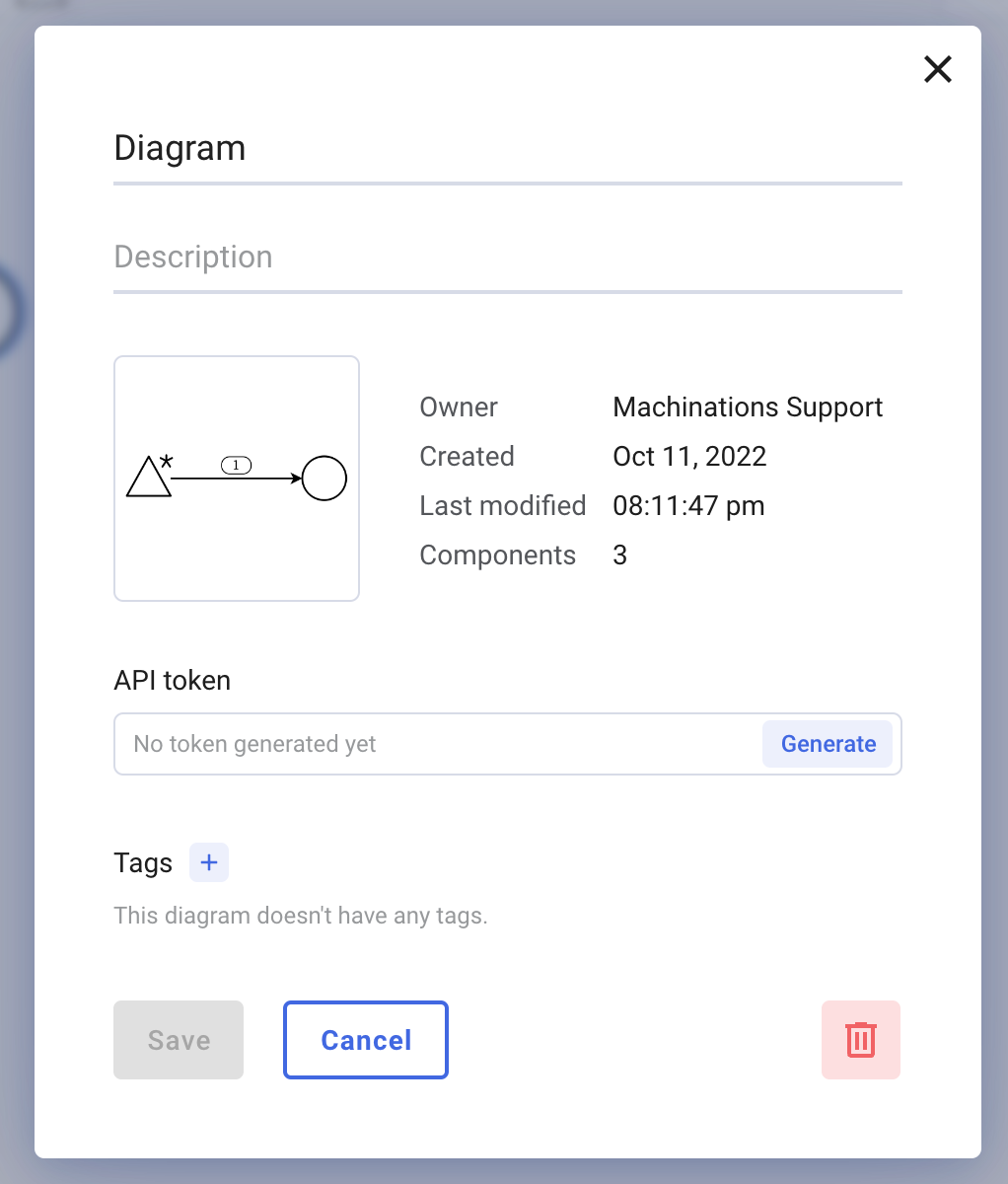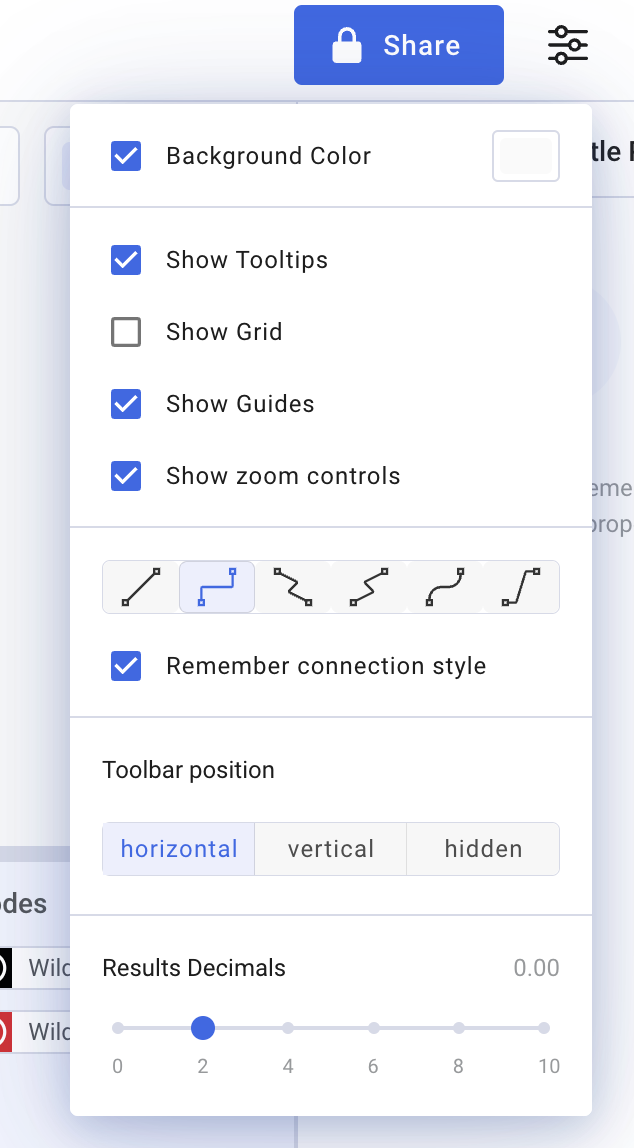 From this dropdown, you can:
Set a background colour for your diagram
Show/Hide Tooltips, Grid, Guides and Zoom Controls
Set your preferred connection style
Choose the position of your components bar or hide it
Choose how many decimals are shown on the diagram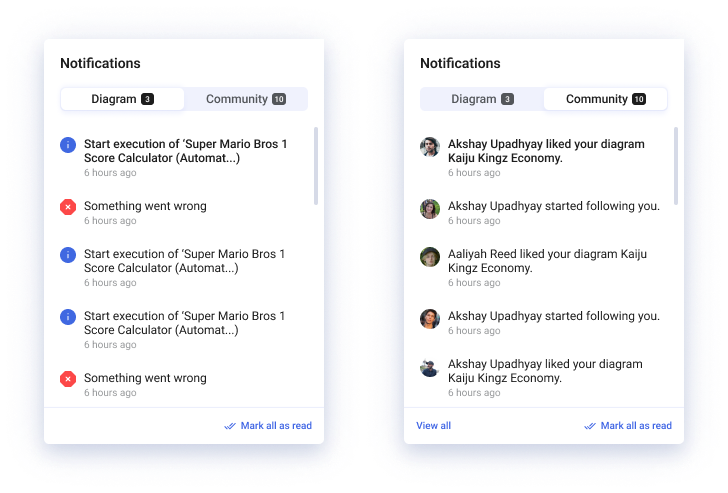 This area will provide important information about your diagrams, such as potential errors or issues. In the same panel, you will see community updates.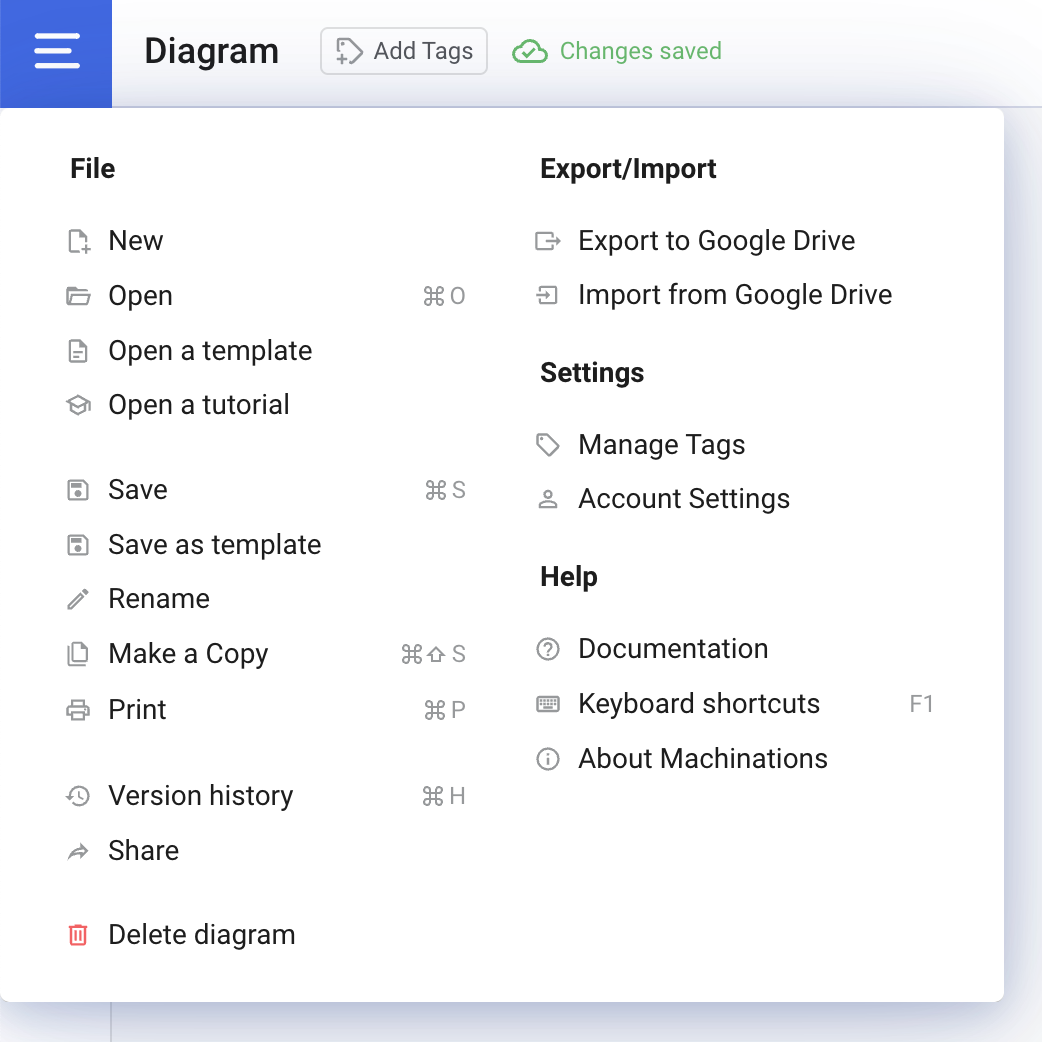 In the Main Menu you will find everything you could expect from a Docs suite.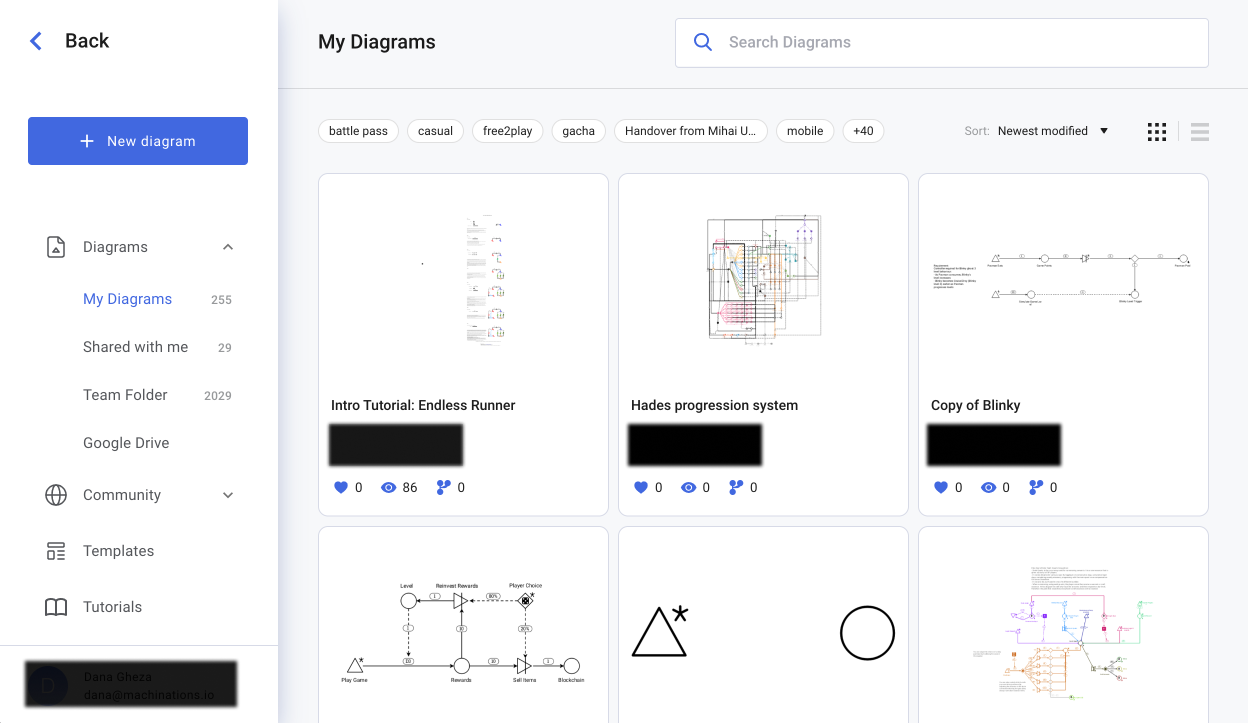 Diagrams – all your diagrams split by:

My Diagrams – all diagrams created by you
Shared with me – all diagrams that were shared with you
Team Folder – your team's diagrams
Google Drive – previously exported diagrams

Community – discover diagrams publicly shared in the community

Activity Feed – latest updates and trends
Diagrams – browse diagrams published on the community
Designers – browse all designers' public profiles

Templates – a repository of ready-made deconstructions of games and game mechanics
Tutorials

Every diagram will consist of several nodes and connections. The Components Panel is where you can find them.
Select the Node or connections you wish to add with your mouse, then click on the canvas to place it where you want. No worries, you can always move them once added.

The Sidebar contains all the tools to organize your libraries (Public, Private, Team), Image gallery, Custom variables (Diagram, Private, Team), Layers, and review the History for your diagram and plays.
When a diagram component is selected, the Properties Panel displays their Functions & Style set-up.
Check out the documentation for each Node/Connection to learn about each available setting.


Once you have modelled a system, at the bottom of the canvas, you can find the diagram's Play Modes. Read all about it here:
Opens the Execution Chart of your diagram. Learn all about Charts at the link below.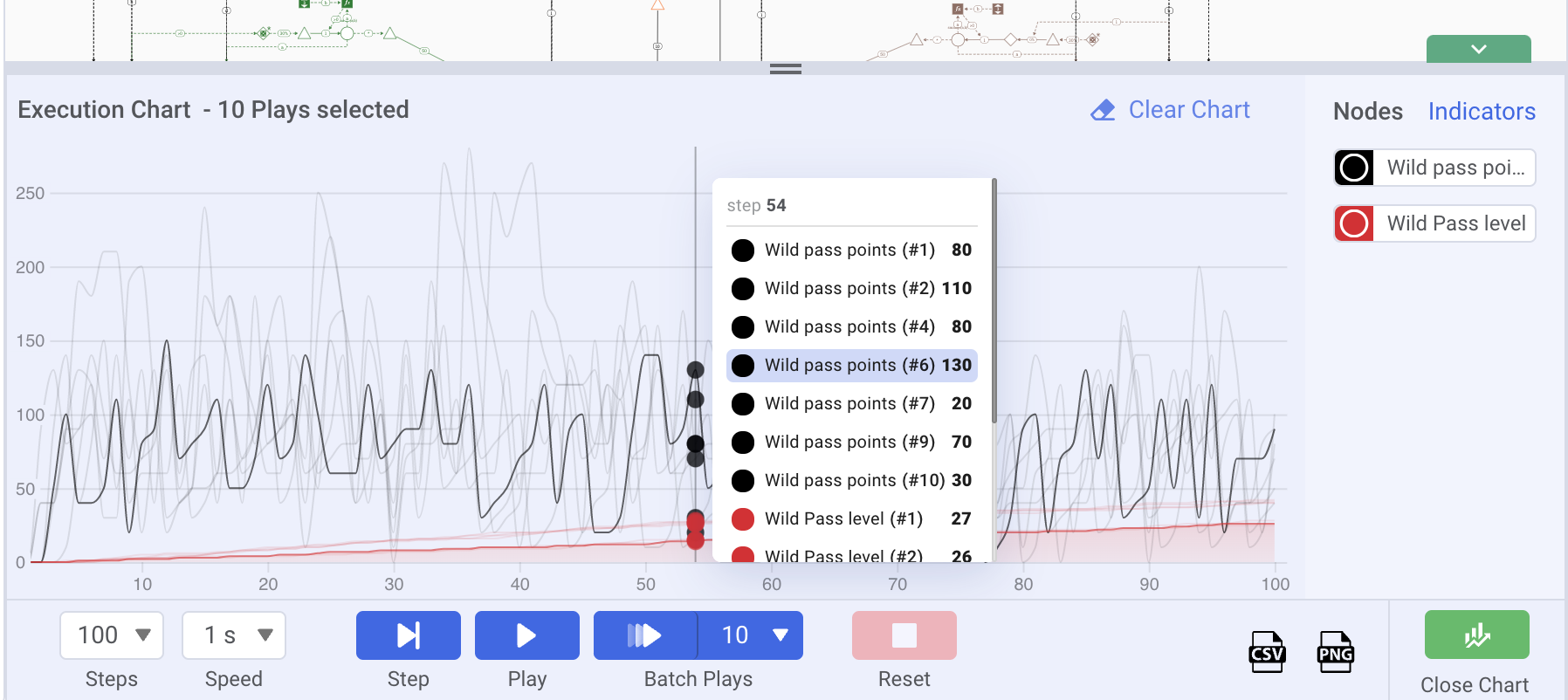 Hover over the View Controller to reveal all options: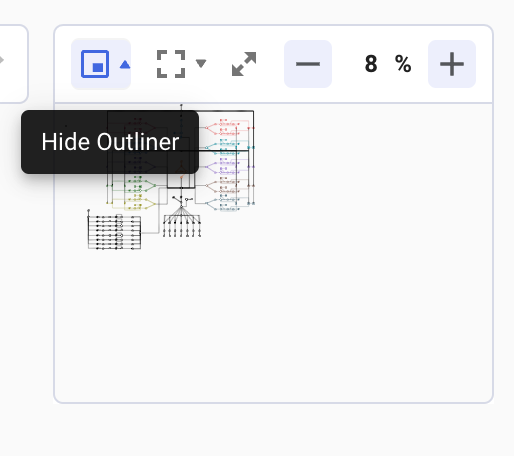 Use this as a minimap, by dragging the outline to navigate the diagram.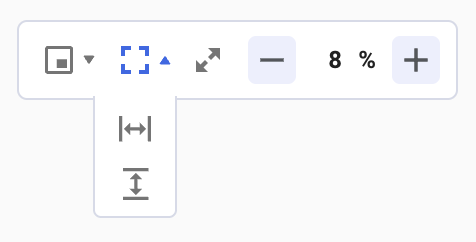 Fit to screen
Fit to width
Fit to height

Use the - or + buttons to zoom in/out.