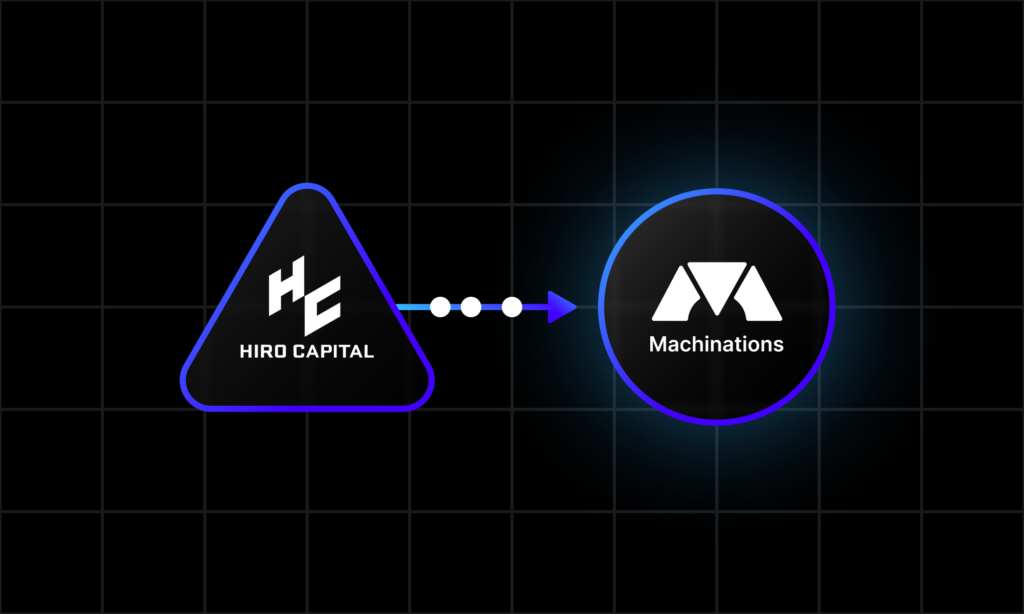 Machinations.io Raises $3.3M in Series A Round Led By Hiro Capital
---
This will enable Machinations to grow its team and deliver powerful new features and services to further support its fast-growing user base in delivering & operating perfectly balanced games & economies.
Luxembourg, May 25th, 2022. Machinations.io, the only browser-based platform to design and predict game economies & systems for premium, free2play, and play2earn games, announced today the closing of a $3.3M Series A funding round, led by Hiro Capital. The company will be investing the new capital into hiring and expanding its operations to continue providing powerful features for its fast-growing user base, and are keen on recruiting the best talents this industry has to offer.
The funding round led by the European games industry-focused venture capital firm Hiro Capital, and follow-ons from Acequia Capital, Venrex Investment Management and GapMinder, brings the total funding raised to date to a little over $5M.
"The team at Machinations.io has forged a set of tools that will be foundational in the future of game design, both centralised games and Web3," said Spike Laurie, partner at Hiro Capital. "The ability for any development studio to use Machinations' platform to create in-game economies in a streamlined browser-based solution is revolutionary. We're excited to help the Machinations team take their vision to game creators across the globe."
Machinations.io was specifically built to tackle the difficulties of designing game economies that reside in their very nature: complex rule-based systems exhibiting multiple emergent properties that must deliver a well-designed, naturally flowing user experience. Using a Turing-complete visual language, Machinations enables game designers to express game systems, then perform large-scale Monte Carlo simulations to get millions of gameplay progression data with one click of a button. Changes in design, parameters or rulesets can be done on the spot & collaboratively to achieve balance and get the right player experience before going into production. All this translates into rapid iteration processes, mitigating the risks associated with launching broken game economies and reducing the costs of long production cycles. The Machinations team is committed to automating and productising those painful and uncertain jobs of the game design process, to support game designers in focusing on the aspects that require the most human creativity and ingenuity. 
The tool originated as a PhD research at the University of Amsterdam in 2012 and was brought to market in 2018, by a team of seasoned industry professionals coming from SYBO Games, GameAnalytics and Unity, and its original creator – Joris Dormans. Today, more than 35,000 professionals across thousands of studios use Machinations; and 400+ academic institutions across the planet are utilizing the platform as part of their curricula to train the new generations of game designers or push research further. 
Prior to this Series A round, Machinations has raised $1.6M, backed by Seedcamp, GapMinder, Acequia Capital and a suite of top-notch angel investors. To date, the team has delivered much more than a powerful platform for designing and predicting game economies, having recently launched the Machinations Game Design Community, featuring more than 12,000 game designers' profiles and their diagrams, and a Game Economy Monitoring Service, introducing a way of verifying game economies based on large-scale simulations before launch and continuously monitoring, predicting and alerting on trends during LiveOps.
"We're humbled to be backed by such reputed VCs and have their confidence in our vision and role within the games industry and beyond. Hiro Capital has been great throughout this process, and we're extremely excited to be working together, especially with Cherry Freeman, who will be joining our board. We're growing our team and rolling out integrations with the most popular in-game telemetry providers and Web3 marketplaces, pushing towards our goal of becoming the standard for game economy modelling, forecasting and optimisation – the Machinations Oracle. We envision a future where all systems, architects and data speak the same language and predict collectively, as I like to call it – The Machinations Borg", Mihai Gheza Co-founder & CEO at Machinations.
About Machinations
Founded in 2018, Machinations.io is the first and only browser-based platform used by more than 35.000 professionals to design and predict game economies & systems for premium, free-to-play, and play-to-earn games. Machinations originated as a PhD research at the University of Amsterdam in 2012 by Joris Dormans (co-founder). It has since spread organically through more than 600 academic institutions across the planet. With a fast-growing open community building in public and rolling out integrations with the most popular telemetry providers & markets, the platform is set to become the standard for game economy modelling, forecasting and optimisation. In 2022, Machinations was nominated for the Develop:Star Awards, in the Best Technology Provider category.
About Hiro Capital: Investors in the Future
Hiro Capital is a London / Luxembourg technology Venture Capital fund which invests in Games, IP, Web3 and Metaverse Technologies. Hiro Capital generally invests at Seed through Series A and B stages. We back experienced entrepreneurial teams, building innovative technologies and content with a strongly differentiated proposition and with the scaling opportunity to become very large. We are Games and Metaverse investors who are also Games and Metaverse entrepreneurs. We are entrepreneurs who back entrepreneurs. Our core belief is that Videogames, Metaverse Technologies, Creator Platforms and the Gamified Body will be a central pillar of Entertainment, Economic and Social Life in the mid 21st century. We invest in the innovators who are building that future. https://hiro.capital/ 
Media kit available here: https://bit.ly/machinations-media
Find Machinations on Twitter | Discord | YouTube | LinkedIn