Built for teams
Machinations changes the way teams perform and interact with game design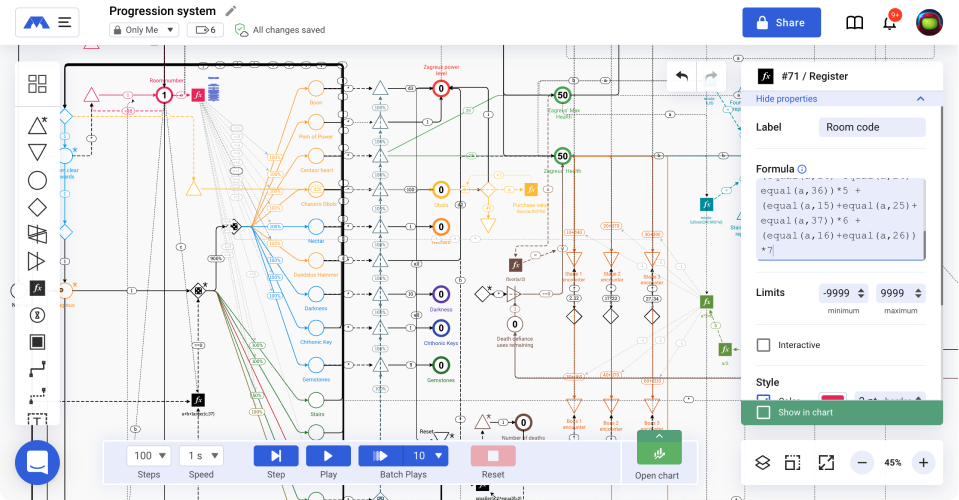 Design, prototype and handoff
We did not have a dedicated tool until now. Map the whole game into an interactive diagram, balance, and hand it off to production, all in one platform.
SEE ALL FEATURES
Reduce guesswork
Back up gut feeling with science and iron out any kinks
Design collaboratively
Share and edit real-time co-op like it's the 21st century
Leverage experience
Start with hundreds of ready-made deconstructions and prefabs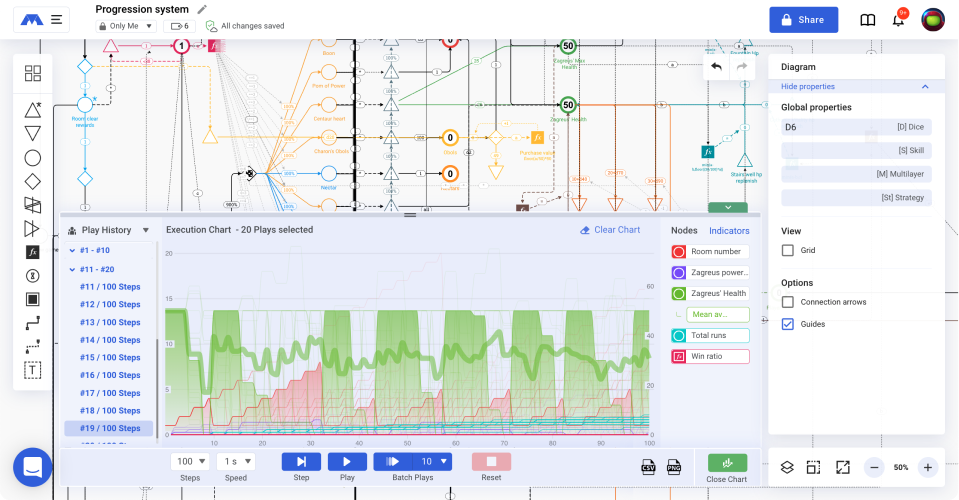 Predict player progression
Simulate emergence and balance player journeys through any game experience: single-player or PvP; free2play or premium.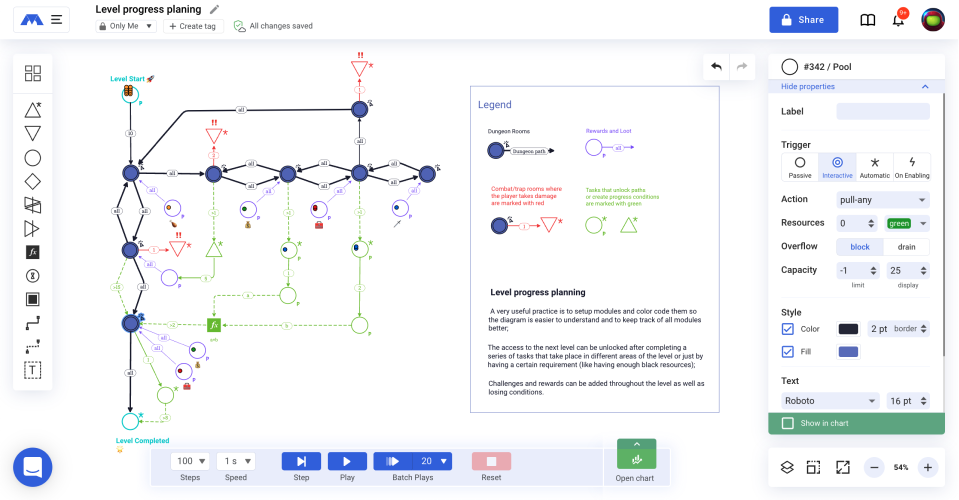 Communicate your exact vision
Express any system or mechanic, no matter how abstract, visually. Keep everyone on the same page.
Over-the-air sync
Live sync parameters directly into your development environment with our game engine plugins and open API. This will save you countless hours of exporting, importing and validating CSVs, ping-ponging parameters between design and development.
INTEGRATE WITH YOUR GAME ENGINE
Translate game design
Use a standardised language to describe systems and parameters
Data in/out
Feed parameters to game build, then playtest data back to the diagram
Spot flaws
Isolate and solve roadblocks in player journeys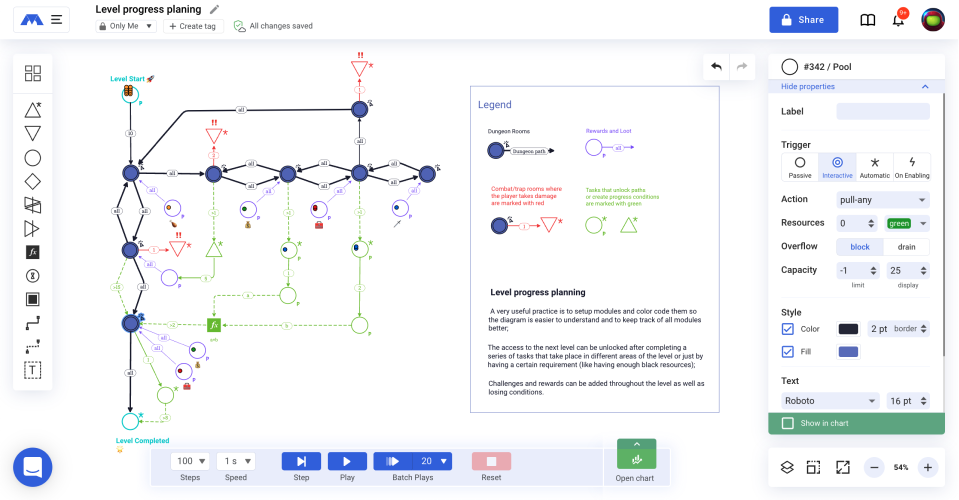 Visual Spreadsheets
Every column is a Node, every function is a Connection, every row is a Step. There's nothing wrong with sheets, but if every element on a diagram is linked to your game engine build, you won't have to use them again.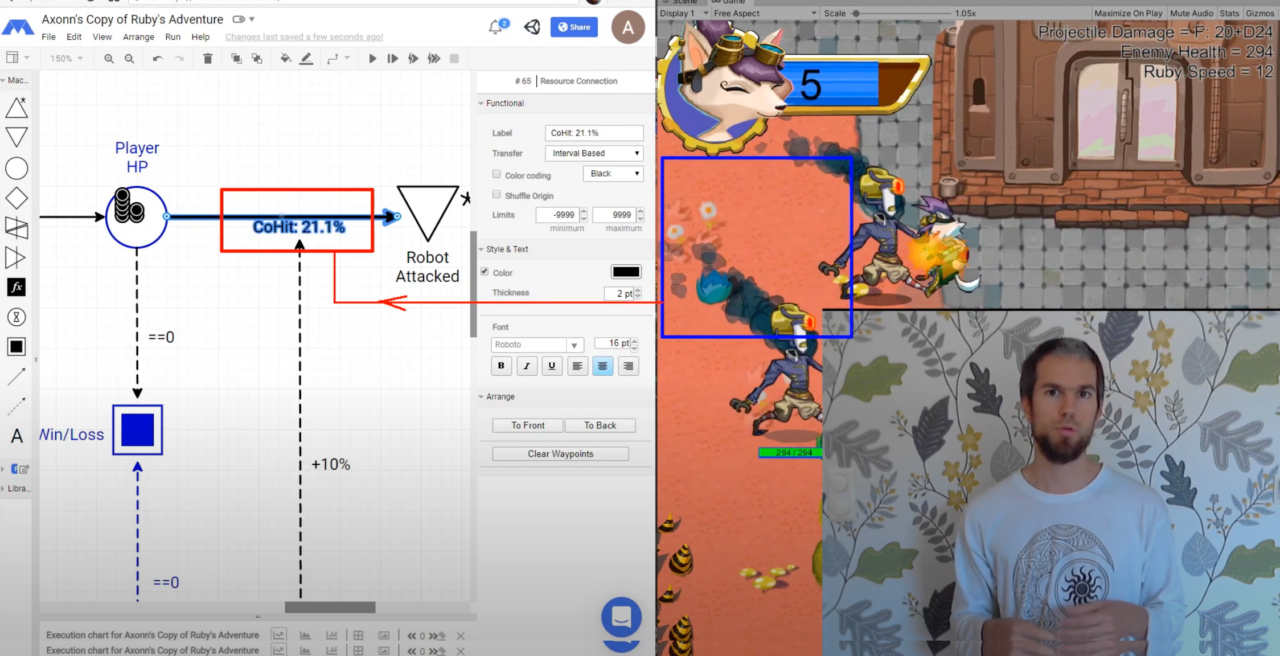 Balance collaboratively
Design with your entire team and adjust diagrams in real-time co-op. Iterate on the same diagram directly from your development environment via over-the-air API sync.
Align your entire team
A clear, visual way of communicating game design that anyone on the team, or outside of it, can grasp. Smooth the communication between design, product management, analytics and development teams and keep the entire game design in one place, without it being scattered across GDDs, sheets, emails and beer talks.
READ CASE STUDY
Cross team language
Spread the game design language across all departments
Team management
Collaborative editing, team folder, tags & user management
Version history
Keep track of your team's progress and roll-back if you need to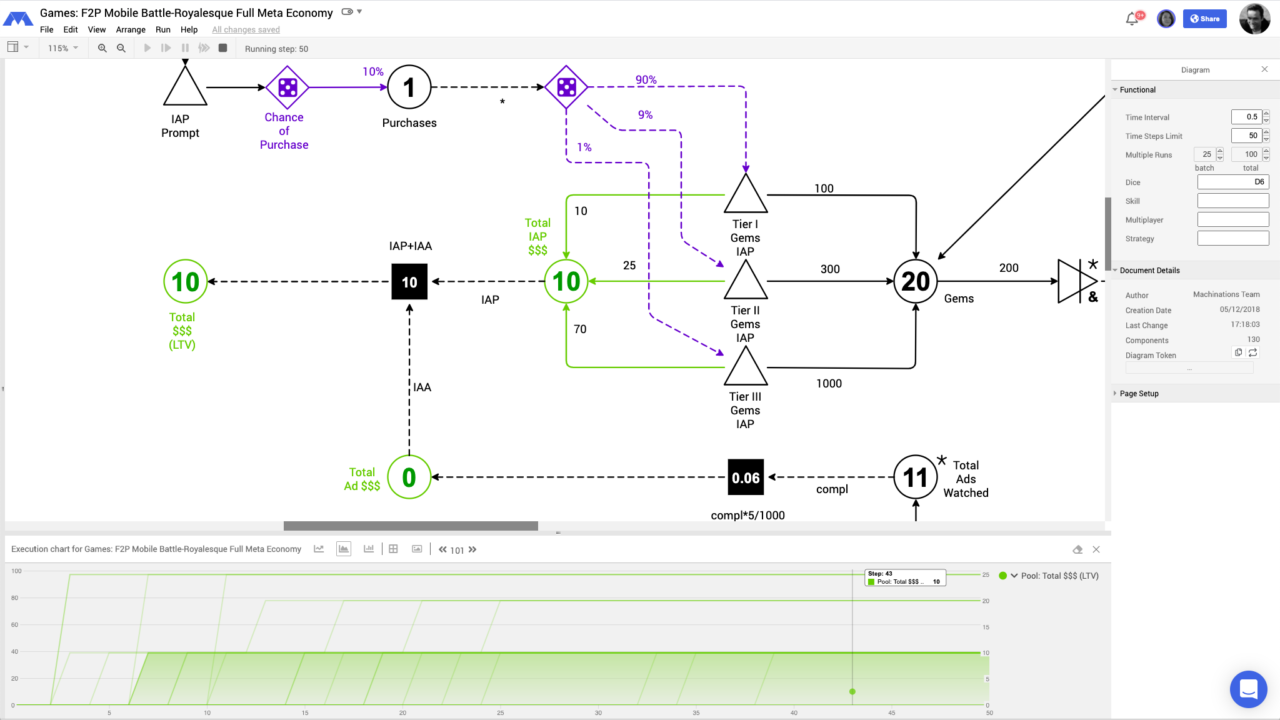 Predict game KPIs
Get a better understanding of player experience, game revenue and the impact of live updates, instantly. Simulate player journeys until you hit the desired outcomes.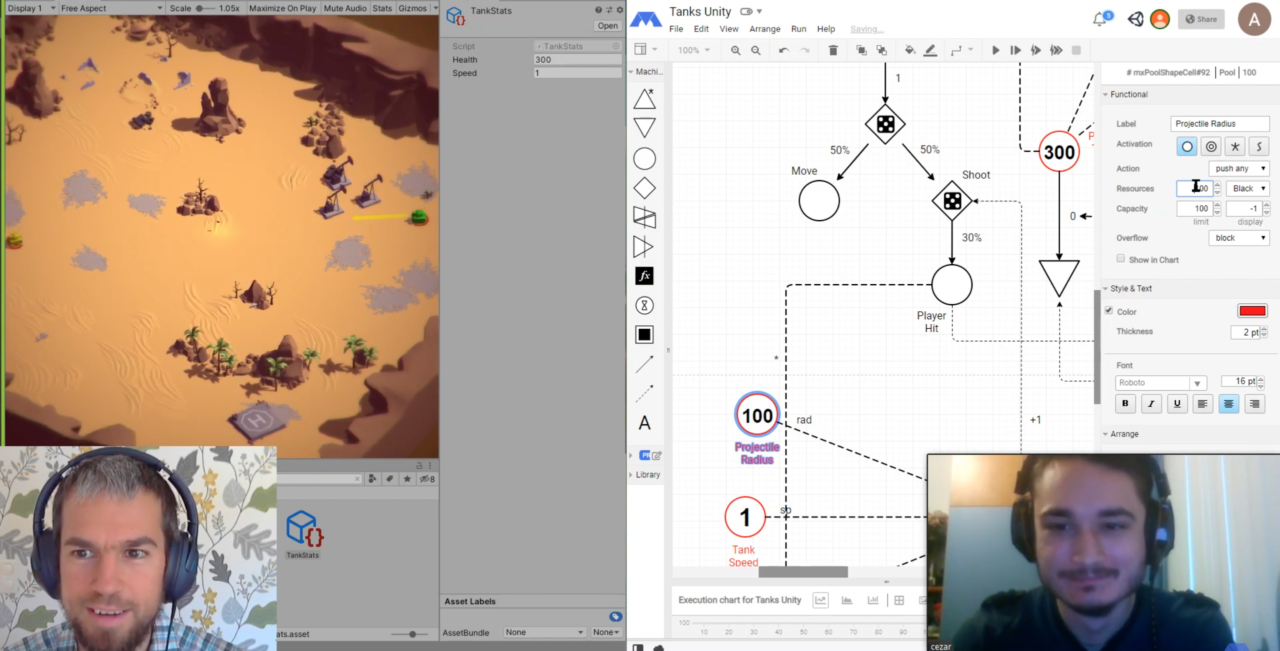 Streamline production
Save hours of work on iterations, creating spreadsheets of meta systems or waiting for data collection during soft-launch. Get sample data for UA in hours instead of weeks.
From design to events
Identify what events to track and predict outcomes before the game is live, using a language common with that of game design and development teams.
READ CASE STUDY
Analyse simulations
Export execution results via CSVs, to your BI tool
Randomness tamed
Simulate player emergence to spot trends and outliers
Forecast monetisation
Compute LTV from the ground up, based on player behaviour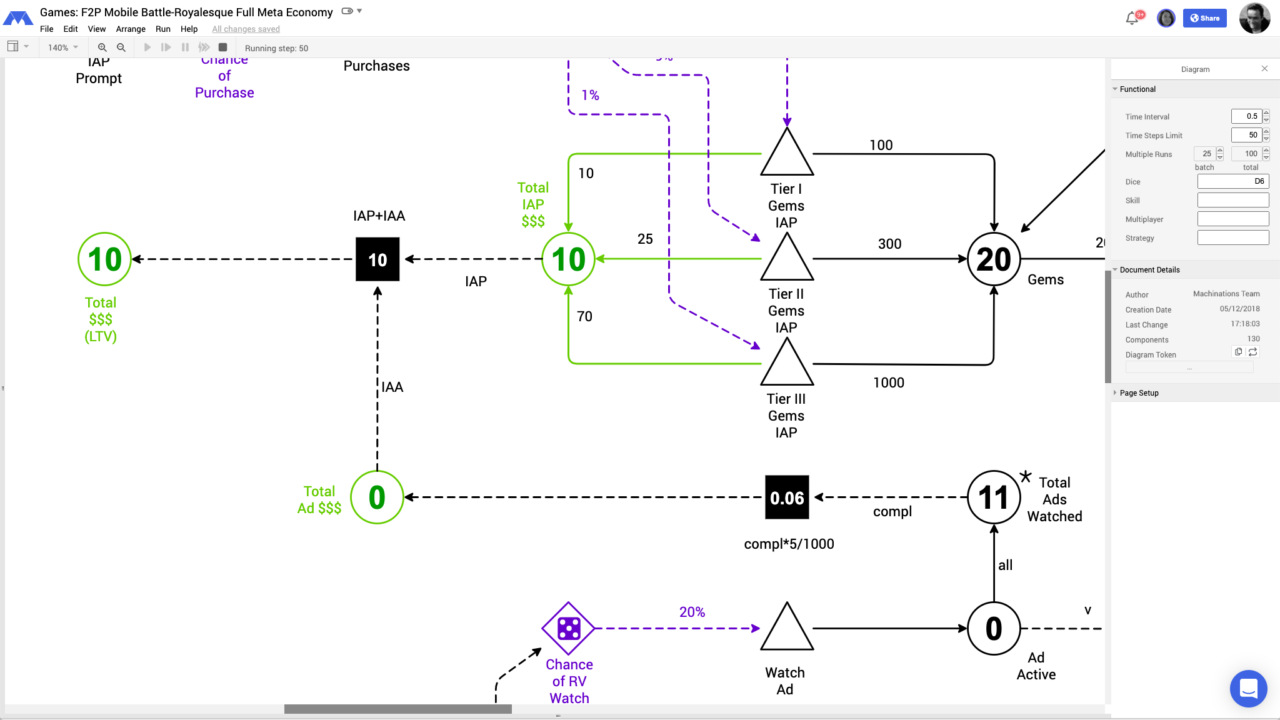 Predict the impact of updates
Identify how changes ripple through the entire game economy and avoid breaking what works. Keep your Golden Cohort happy by testing against different player journeys.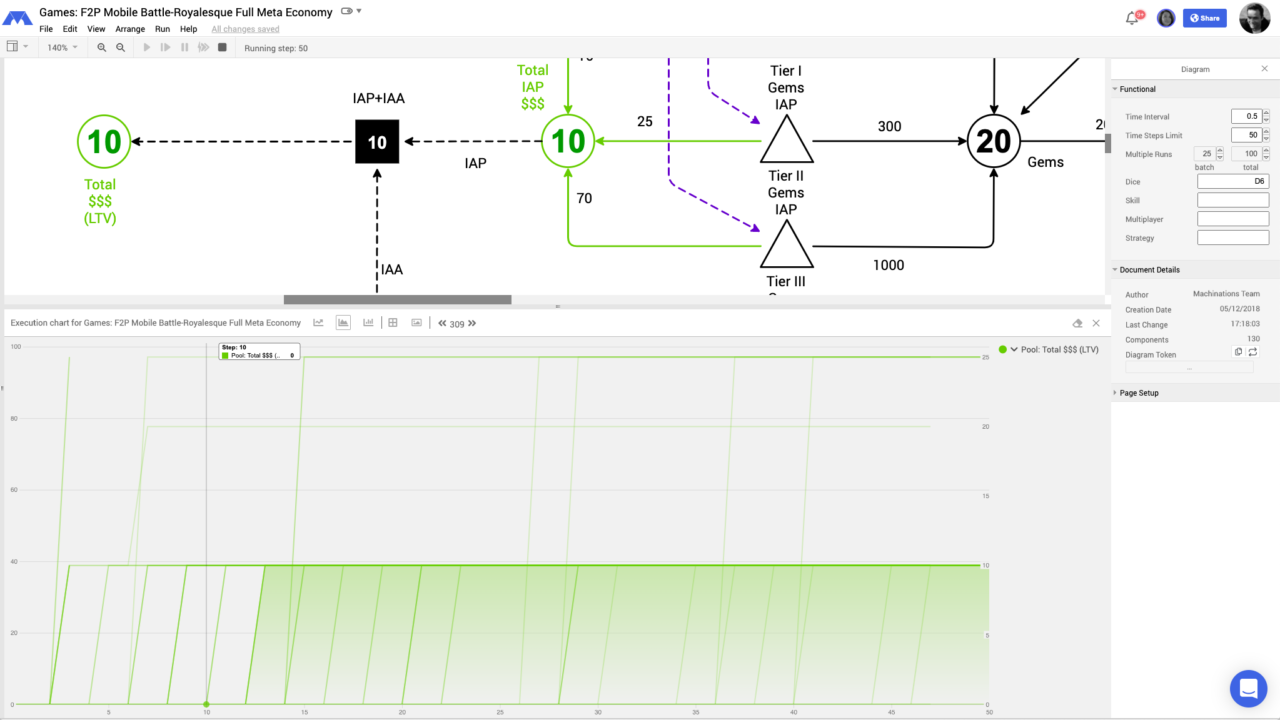 Forecast KPIs
Sample data in hours instead of the weeks it would take to collect sufficient data during soft-launch, adjust, make an update, and analyse results.
The language of the future
A standardised language that you can apply to any game system, in any team, anywhere in the World, for years to come. Machinations nurtures a promising set of skills upon which students can build a career.
JOIN ACADEMIA PROGRAM
Linkedin Certification
Expert or Alumni certifications for professors and students
Google Drive Export
Store all class assignment and exam in a Google Sheet
Live Editing
Teach remotely and enable student groups to collaborate real-time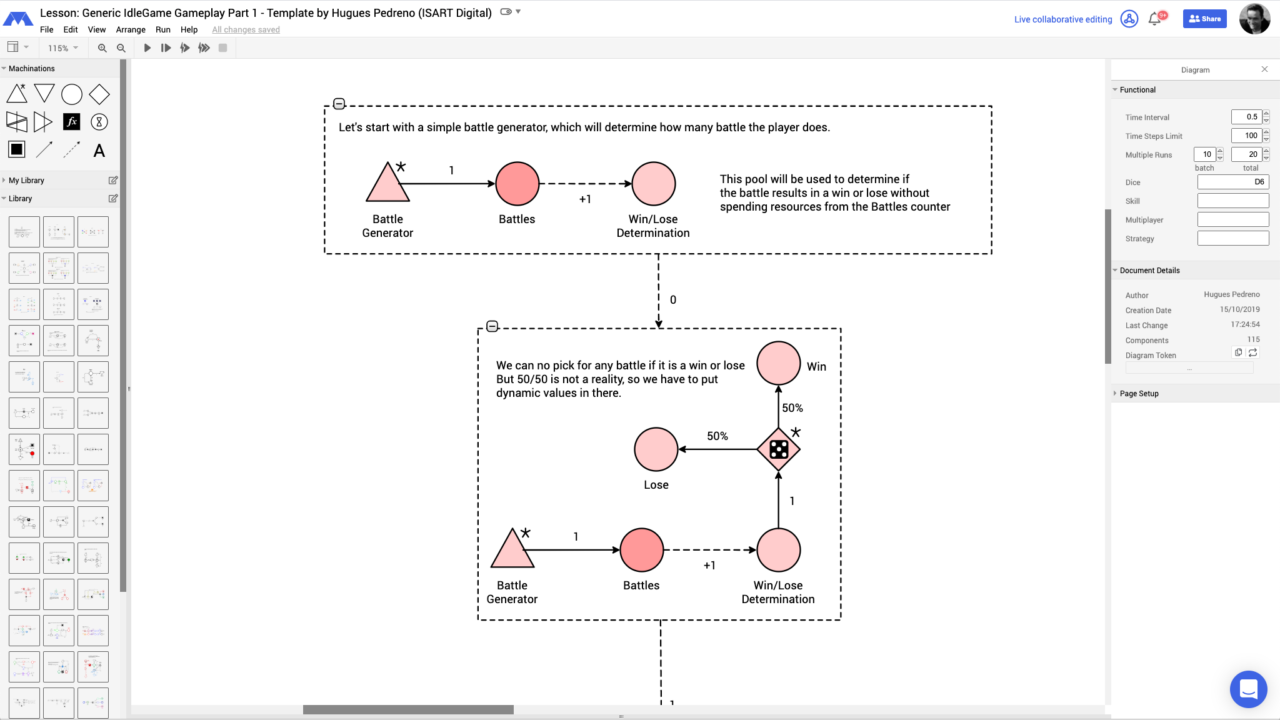 One tool to rule them all
Machinations was born within academia and it's now a mature, peer-reviewed framework and platform. It helps structure the curricula and deliver class exercises, with an extensive documentation and alumni community.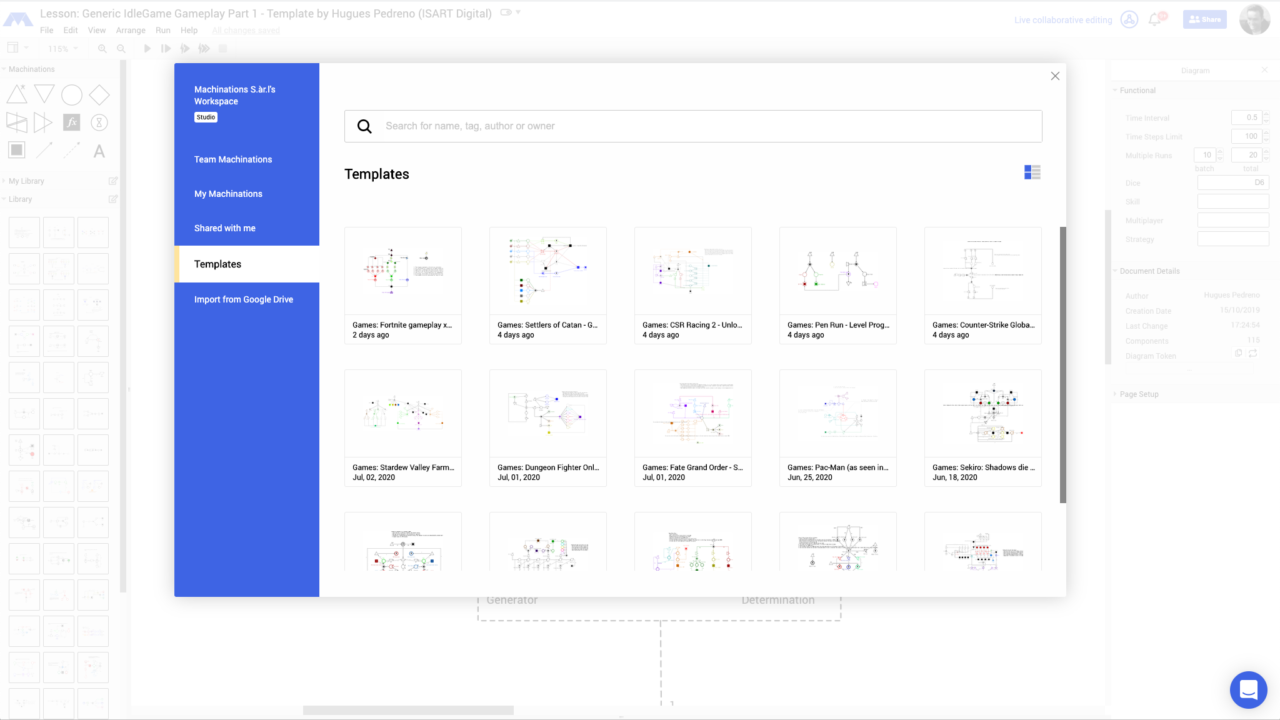 A network of peers
Join 100+ academic institutions using Machinations in class. We actively encourage further research for other applications and advancements of the framework.
Ready to start?
Some of the best game designers, developers and academia all over the World use Machinations in their day to day work