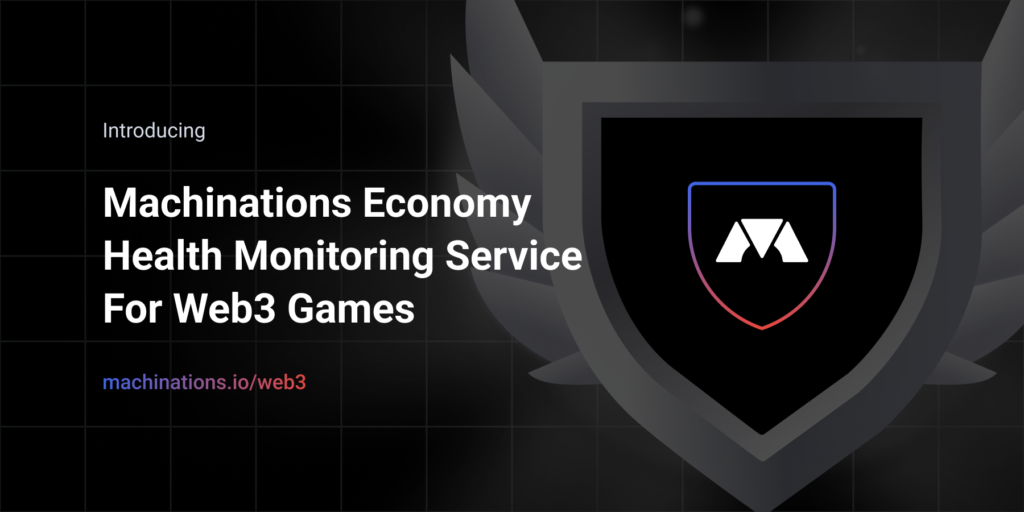 Introducing The Machinations Game Economy Health Monitoring Service
---
Machinations.io, the only platform to design and predict game economies & systems for premium, free2play, and play2earn games, announced this week the launch of its Game Economy Health Monitoring Service for blockchain games, introducing a way to verify game economies based on large-scale simulations prior to launch, and continuously monitor and predict and alert on trends based on live players and market data after launch.
Build And Maintain Healthy Game Economies
"While Web 3.0 gaming is a polarising subject, we're excited about the awe-inspiring long-term future, yet doing our best to solve some of the toughest challenges faced by this industry short-term. Whether it's due to lack of experience and repeating all basic mistakes from free2play, or due to the apparently chaotic nature of an open-garden ecosystem where assets are freely swapped & wealth transferred, game economy systems & mechanics are notoriously hard to design, and too many people have been burnt trying to architect and operate them," said Mihai Gheza, CEO and Co-Founder of Machinations.
Explaining where Machinations' service can make a difference, Mihai says "the Verified by Machinations Seal promotes the use of science and data to continuously monitor game economies and tokenomics design" adding that Machinations strives at predicting and preventing economic hurdles, equipping Web 3.0 game developers with the tools and insights to build and maintain healthy game economies.
A Rigorous Process Based on Science
Behind the scenes, these games' economies are undergoing a meticulous review process where Machinations experts translate the game's documentation into Machinations models. "During every review project, our clients go through at least one <<aha! Moment>> and realize that the Machinations model identified one or more design flaws that could have negatively impacted their players' experience", says Matthew Morris, Sales Director.
Talking about the platform behind the process, Alin Moldovan, CTO at Machinations explains :
"At the heart of our process is our platform orchestrator; we are capable of running large-scale Monte-Carlo simulations, which can then be explored from different angles to evaluate how well a game economy & tokenomics design perform in market conditions, giving developers confidence intervals on their assumptions and scenarios."
Continuously Monitor In Live-Ops
Once this review process is done, Machinations experts evaluate if the economy models pass the criteria and the games that do, obtain the Verified by Machinations Seal. To retain this seal, the verified games' economies will be continuously monitored and re-forecast by Machinations, based on live telemetry & Web 3.0 market data. This will predict their long-term economic health & sustainability and deliver real-time alerts & insights.
"I'm happy to announce that we're already working with more than a dozen games that have chosen to examine their game economy design through rigorous scientific analysis instead of vague whitepapers and gut-feeling. The list of games getting on board grows every day, together with players avid of information & education on this overwhelmingly complex topic," concludes Mihai.
If you want to know more, you can check out our Game Economy Health Monitoring Service presentation on the Blockchain Game Alliance blog page.