Pricing
info
For paid plans, all limits (# of components/run steps/tags, etc.) are calculated on a per-team basis and cumulate from all users in a team.
To access our payment plans go to Profile Picture > Account Settings > Usage & Billing > Change Plan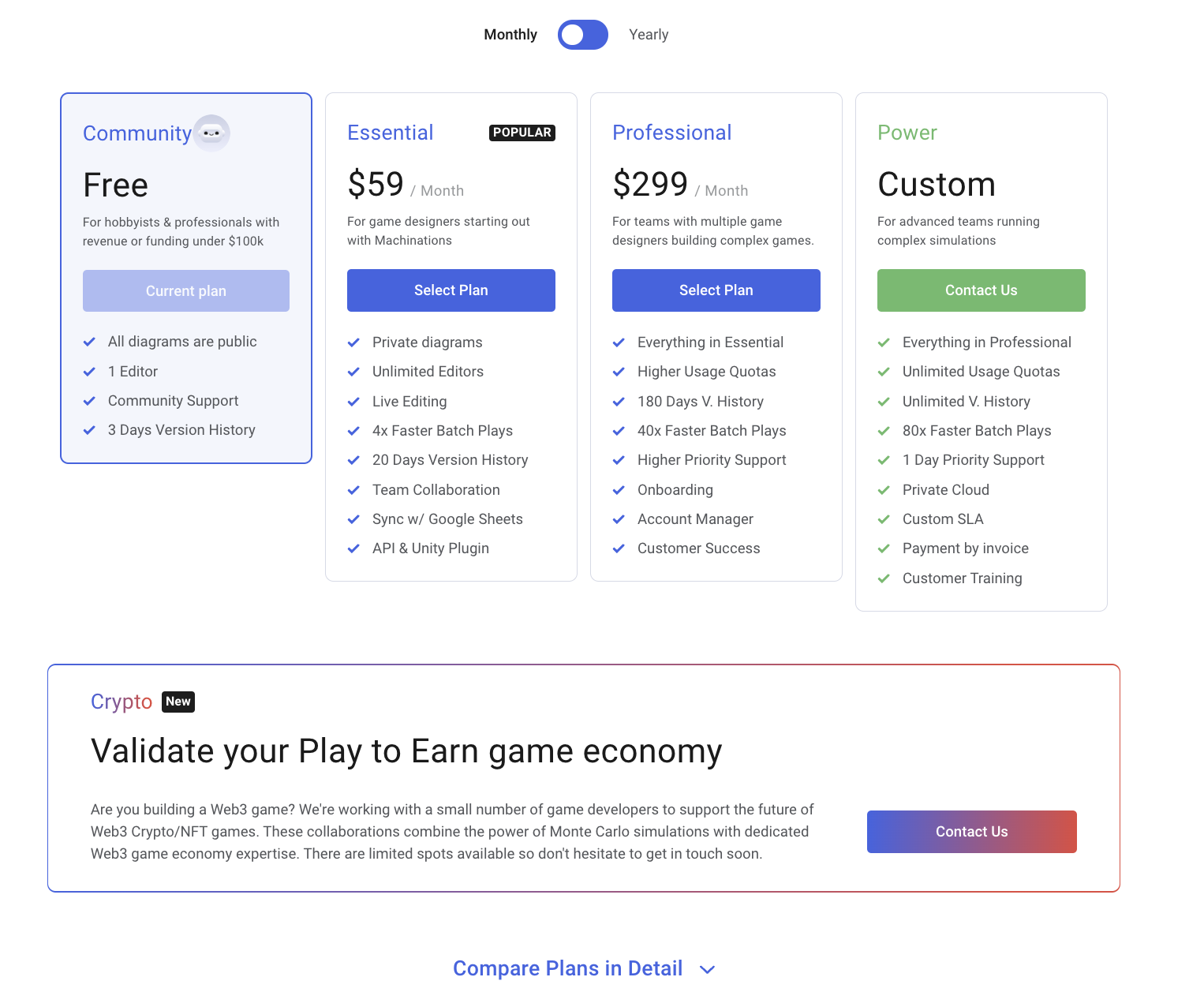 success
Get a 17% discount with our Yearly Plans
success
All our paid plans come with a 14-day free trial.
This gives you the opportunity to try out our paid features for free.
Your free trial starts automatically when you choose one of our paid plans and go through the checkout process.
Yes. You will need to go through the checkout process in order to start your trial.
Once your trial is over, we will automatically start billing your card, unless you cancel your subscription. You can check out the date of your next billing date in Profile Picture > Settings > Payment Plan.
Private diagrams: Still in soft launch. We are opening up the Machinations Community (aka the GitHub of Game Design). Your profile and diagrams are public, they can be viewed and liked by your peers. Work on your portfolio (in your Account) and share it before/during job interviews or with teams you're looking to join.
Editors: The Public plan is a solo operation. All Paid plans come with Collaborative Editing with your whole team (unlimited editors).
Team Management: Add/remove members, manage subscriptions, update invoicing details.
Collaborative Editing: Collaborating with your team in real-time, on the same diagram.
Team Folder: All team members have access to a shared folder where they can share and access the diagrams you work on as a team.
Team Library: A beneficial way of sharing game mechanics and systems you want to make available (drag and drop) across your team and diagrams.
Version History: The basic turn-back-time mechanic 😉 Revert back to a previous version, or get an overview of your diagram's evolution and the contribution of team members.
Components: The total number of Components (Nodes, Connections) across your account. For paid plans, all team members' designs contribute to this count. It reflects the cumulative number of Components across all member accounts. For the Public plan, for example, the 1000 Components limit can mean 1 model with 1000 Nodes&Connections or 500 models, 2 components each.
Library Items: The total number of library items you can save.
Diagram Tags: The number of unique Tags you can create in order to sort and find diagrams.
Simulations: The maximum number of QuickPlays you can run on a diagram.
Play Steps: The maximum number of Steps the Orchestrator runs the model during 1 individual play. Were you to have a model where each Step simulates 1 Day of gameplay, in order to simulate a year, you'd need to play your model for 365 Steps.
API: Access to our API.
Unity Plugin: Connect your Machinations model to your Unity build.
Export to Google Sheets: Export/Import your diagrams directly to/from your Google Drive account
Export Execution Results: Further analyze the results of your simulations.