Author: Machinations
Machinations is a visual and interactive tool for evaluating the impact any game system, mechanic, or parameter has on your players' experience. Entire games can be mapped and played through in Machinations, to easily spot any flaws, before writing a single line of code. Then, forecast game progression or free-to-play revenue with confidence, understand and maximize different player journeys. It's time to fuel your game design process with data, not guesswork!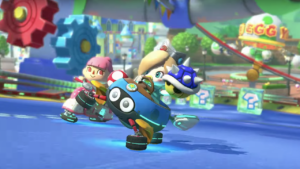 Game systems: Feedback loops and how they help craft player experiences
Image via Nintendo/YouTube Have you ever been monstering a race in Mario Kart and then, blam, the blue shell hits and you've got a few seconds of teeth-grinding frustration while you wallow about...
READ MORE